HI Design MEA 2018 – Buyer and Supplier Update
13 Feb 2018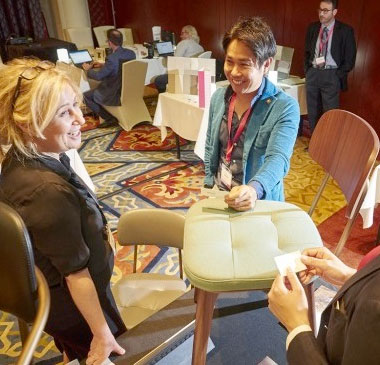 SOLD OUT ON BOTH SIDES WITH QUALITY GUARANTEED
You're only as good as your last event. Or in this case, our last HI Design MEA was, in fact, our first. And judging by the rate this year's event has filled up, our decision to give the MEA region its very own HI Design was a well received one. Phew! So our target of 65 Supplier companies and 55 Buyers was reached some time ago. But, of course, it's not all about the numbers. HI Design is about bringing the region's collaborators together – the real hotel project people. And we're confident that each year our very special forums represent the best in hotel interior design in their respective regions. Hotel project leaders are busy people, so if you want to get them away from their projects for a few days, you need to provide a community worth partaking in.
HI Design has never been about the hard sell. When something is put together with care, it shows in the experience. And if HI Design delivers something outstanding, we feel that would be reflected in the people who come. And if they say good things about it, more good people will want to come and the event will fill up earlier every year.
Around 190 of MEA's hotel project professionals are coming to Bahrain. The full confirmed lists are available on request from Sofi or Guy. For now, here's a sample from our confirmed Buyer and Supplier lists for this year and we'll let them speak for themselves.
Buyers
Aedas – Senior Assiciate
ARA – Design Director
Areen – Purchasing and Logistics Manager
Bishop Design – Owner & Founder
Depa Interiors – Senior Procurement Manager
DWP – Portfolio Director
EMAAR – Manager Hospitality Development
HBA – Art Director
Hilton Worldwide – Director of Design Architecture & Construction, Middle East & Africa
Intercon – Managing Director
Intercontinental – Director of Design Middle East
Jumeirah Group – Development Manager – Design
Kristina Zanic – Ceo
LW Design – Lead Senior Designer
Mariott – Design Director
MMAC Design – Senior Interior Designer
Omniyat Middle East – Procurement Manager
Perkins + Wills – Principal
Rotana Hotels – Corporate Vice President Projects
WA International – Design Director
Wilson Associates – SVP & Managing Director
Suppliers
Cane-line A/S – Denmark – Outdoor Furniture
COLLEZIONE CESARO – Netherlands – Fabrics
COMPAC – The Surfaces Co. – Spain – Decorative Surfaces
Evo Furniture Ltd. – Estonia – Furniture – Contemporary
Faro Barcelona – Spain – Decorative Lighting
FLUIDRA SA – Spain – Clean Water Technology
Franklite Ltd – United Kingdom – Decorative Lighting
GESSI SPA FRAZ –    Italy – Bathroom Furniture
Hakwood B.V.    – The Netherlands – Wooden Flooring
HMD INTERIORS – Portugal –    Contemporary Furniture
JC Hospitality – Vietnam – Furniture
Jona Hoad Design – UK – Lighting & Switches
Louis De Poortere – Belgium – Flooring/Carpets
MOROCCAN BAZAAR – UK – Furniture/Tiles/Metal
Panaria – Italy – Flooring (Stone / Tile)
Parquet by Dian – UAE – Wooden Flooring
Rochdale Spears Group – HK – Furniture
Sans Souci – UAE – Custom Lighting
Schmitz-Werke GmbH & Co. KG/Drapilux – Germany – Fabrics/Upholstery
Serge Ferrari – UAE    – Furniture
Studio Italia Design srl – Italy – Lighting
Tarkett – France – Flooring
TECE GmbH – Germany – Drainage Technology
Vitropixel – Spain – Mosaic Tiles